Donate now to support the LLIFLE projects.
Your support is critical to our success.
Mammillaria mieheana Photo by: Valentino Vallicelli
Origin and Habitat: Cerro Zamorano, Querétaro , Mexico. (Northern America)
Synonyms:
See all synonyms of Mammillaria mieheana
Accepted name in llifle Database:
Mammillaria mieheana
Tiegel
Möller's deutsche gärtner-zeitung 48: 397, fig. 1933
Synonymy: 3
Description: Mammillaria mieheana (aka Leptocladia mieheana ) is a tiny clump forming cactus with small yellowish flowers and translucent yellow spines. It is a controversial species intermediate between Mammillaria densispina and Mammillaria elongata (both morphologically and geographically) and particularly priced by Mammillaria enthusiasts.
Habit: Plants strongly clustering, forming with time a tight clumps of erect, ascending, prostrate or recumbent stems.
Stems: Cylindrical, to 15 cm high and 5 cm in diameter. Without latex.
Tubercles: Short ovoid arranged in perfect spiral in a few rows. Axil with white wool, at least at the apex.
Areoles: Pubescent when young.
Radial spine: 18 - 20, pale yellow to white, translucent 8 - 15 mm long.
Central spine: 3-6, nearly straight or slightly curved, yellow to amber-brown, to 15 mm long.
Flower: At the upper part of the plant, yellow to white, to 15 mm long and in diameter.
Blooming season: Spring, but can bloom for a second time later in the year.
Fruit: Club shaped or ovate, whitish, translucent, to 15 mm long and in diameter.
Seed: Golden brown.
Bibliography: Major references and further lectures
1) David Hunt, Nigel Taylor "The New Cactus Lexicon" DH Books, 2006
2) John Pilbeam (1999) "Mammillaria The Cactus File Handbook" Nuffield Press.
Edward F. Anderson "The Cactus Family" Timber Press, 2001
3) James Cullen, Sabina G. Knees, H. Suzanne Cubey "The European Garden Flora Flowering Plants: A Manual for the Identification of Plants Cultivated in Europe, Both Out-of-Doors and Under Glass"Cambridge University Press, 11/ago/2011
Mammillaria mieheana
Photo by: Valentino Vallicelli
Mammillaria mieheana
Photo by: Silvio Fantuzzi
Mammillaria mieheana
Photo by: Silvio Fantuzzi
Mammillaria mieheana
Photo by: Valentino Vallicelli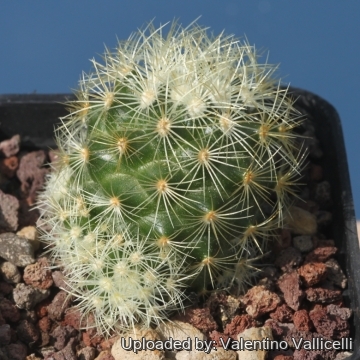 Mammillaria mieheana
Photo by: Valentino Vallicelli
Send a photo of this plant.
The gallery now contains thousands of pictures, however it is possible to do even more. We are, of course, seeking photos of species not yet shown in the gallery but not only that, we are also looking for better pictures than those already present.
Read More...
Cultivation and Propagation: This is a popular and easy cactus species. It will form quite large clumps with hundreds of offsets if given time and grown properly. It is especially suited for window sill and dish gardens. Water regularly from spring through fall, but do not overwater (Rot prone). Let soil become moderately dry between thorough watering. In winter, keep dry or water only enough to keep the plants from shrivelling. Use pot with good drainage and a very porous potting media. Newly potted plants should not be fertilized for a year; established plants should be fertilized once each spring with a high potassium fertilizer. It is quite frost resistant if kept dry, hardy as low as -4° C. Outside full sun or afternoon shade, inside needs bright light, and some direct sun, but high levels of light will encourage tight growth and flowering. Easily flowered.
Propagation: This species produce clumps of young plants at the base of the main stem, these can be removed at any time of the year. It can also be grown from seed.