Donate now to support the LLIFLE projects.
Your support is critical to our success.
Since 4 Aug 2013
Turbinicarpus graminispinus
Cactus & Co. 14(4): 21 (19-31, figs.). 2011 [2010 publ. Feb 2011]
Family: CACTACEAE
Turbinicarpus graminispinus Photo by: Peiffer Clement
Origin and Habitat: Southern part of the state of Nuevo León (Northeast Mexico, Northern America)
Habitat: It is found in extreme ecological niches in several limestone hills in an area of about one square kilometre, where it grows among limestone rocks and grasses with other cacti, including Mammillaria candida, Mammillaria formosa, Mammillaria pilispina, Neolloydia conoidea and Thelocactus conothelos. From a distance, the long central spines of T. graminispinus give the appearance of a tuft of dried grass enabling it to blend well with its surroundings rendering the plants extremely cryptic. These cacti are very difficult to spot. When they are found, it is usually due to their flowers.
Synonyms:
Description: Turbinicarpus graminispinus is an attractive solitary miniature Turbinicarpus species with many long interlocking, intertwined spines at the apex of the appearance of dried grass (hence the specific epithet graminispinus)
Stem: Very small, simple, only 15–20 mm in diameter.
Tubercles: about 4 mm long, conical, 1.5 mm ø at the apex, 3.5 mm wide at the base, somewhat greenish.
Radial spines: 7 white, acicular and radiating of which 5 in the lower part of the areole 3-5 mm long and 2 in the upper part up to 10 mm long, at first brownish, later becoming grey. At maturity, the 2 upper spines resemble the central spines, about 2 cm long, at first yellowish brown, later becoming grey.
Central spines: One thin narrow, flexible, bulbous at the base, curved, elliptical in transverse section, imitating dried grass, up to 3 cm long and yellowish-brown in colour. Older plants can have two more additional central spines.
Flowers: Funnelform huge compared with the tiny bodies, up 4 cm long and 5 cm in diameter. Its petals are pure white or slightly pinkish, with a more or less distinct pinkish midstripe, lower part green. Tepals lanceolate, on the inside almost white or somewhat pink, sometimes with pink mid-stripe, exterior furnished with a narrow brown mid-stripe. Ovary green, stigma lobes long white, anthers deep yellow, filaments white and at the base becoming green or pink.
Fruit: About 5 mm long, 3-4mm wide ovoid to globose, dehising longitudinally, green becoming brown at maturity.
Seed: 0.9-1.2 mm long black.
Bibliography: -
Zlatko Janeba "A new jewel in the genus Turbinicarpus: Turbinicarpus
graminispinus G.F.Matuszewski, V.Myšák & Z.Jiruše" in: CactusWorld (The Journal of the British Cactus & Succulent Society) Volume 29 No. 2 June 2011 pag 65-68 http://www.ibiologia.unam.mx/slccs/www/material_bib/J/Janeba_Turbinicarpus_graminispinus.pdf
Hunt, D R (2006) The new Cactus Lexicon (2 vols). DH books, Milborne Port.
Matuszewski, G F, Myšák, V, & Jiruše, Z (2011) Turbinicarpus graminispinus spec. nov., Cact. & Co. 14(4): 16-31. 2010 [publ. (Mar) 2011].
Zachar, M (2004) The genus Turbinicarpus. Vydavatel'stvo Igor Drab & Spolo nost' Cactaceae etc., Bratislava.
Turbinicarpus graminispinus
Photo by: Prof. Ilham Alakbarov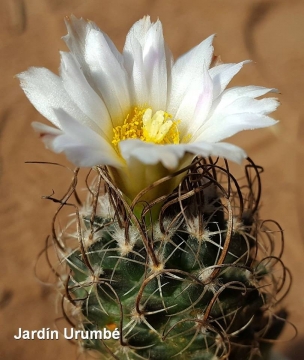 Turbinicarpus graminispinus
Photo by: Alexander Arzberger
Turbinicarpus graminispinus
Photo by: Agócs György
Turbinicarpus graminispinus
Photo by: Valentino Vallicelli
Turbinicarpus graminispinus
Photo by: Valentino Vallicelli
Turbinicarpus graminispinus
Photo by: Valentino Vallicelli
Turbinicarpus graminispinus
Photo by: Peiffer Clement
Send a photo of this plant.
The gallery now contains thousands of pictures, however it is possible to do even more. We are, of course, seeking photos of species not yet shown in the gallery but not only that, we are also looking for better pictures than those already present.
Read More...
Cultivation and Propagation: It is one of the most attractive species in the entire genus and fairly easy species to cultivate.
Soil: Needs a very well draining cactus potting mix
Exposition: Requires strong sun to part sun to develop good spinal growth.
Water: Waterings should be rather infrequent to keep the plant compact and not to become excessively elongated and unnatural in appearance. keep dry in winter or when night temperatures remain below 10° C. Indoors it is best to keep it on the dry side, or it is prone to rot. Do not let this plant sit damp in cool weather (it may be fatal!).
Frost hardiness: It is hardy to about -4°C (or less) for a short period ( if very dry), but for healthy culture don't let temperature drop under 5° C. Assure a good ventilation.
Propagation: Seeds. Seed start sprouting in just few days ( but continue to germinate erratically for about 1 month)