Donate now to support the LLIFLE projects.
Your support is critical to our success.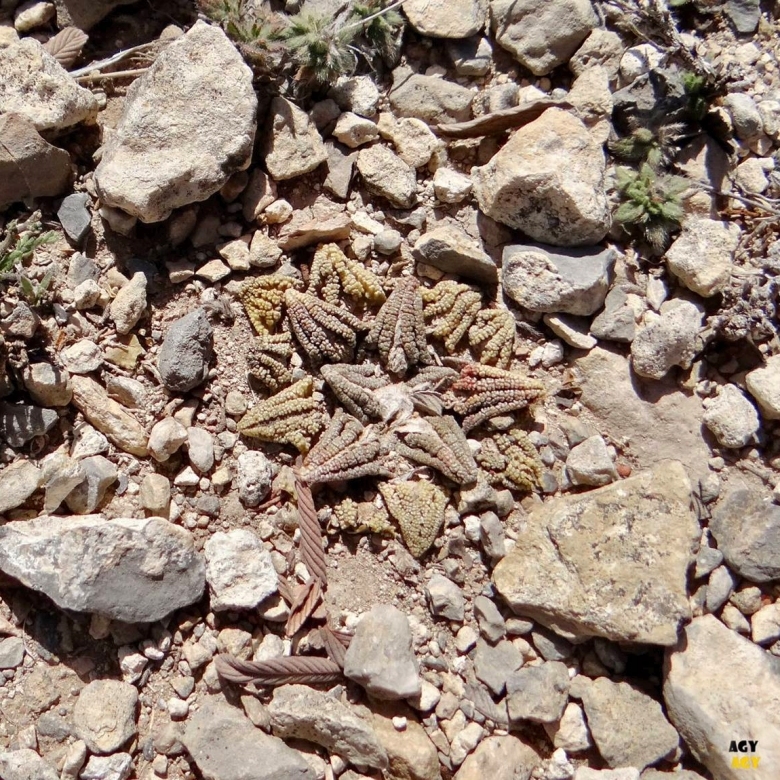 Ariocarpus bravoanus subs. hintonii Photo by: Agócs György
The stems are normally flush and well camouflaged with the soil surface resembling limestone chips in shape, colour, and texture, rendering the plants extremely cryptic. In habitat they are greyish-green in colour, sometimes taking on a yellowish tint with age.
Origin and Habitat: Mexico (known from two small locations 10 and 35km to the South of Matehuala, in Northern San Luis Potosi). The extent of occurrence is 200 km², the area of occupancy is only about 7 km², it occurs at three to five known locations. The population is now known to be very large (approximately 5,000 to 10,000 plants) thanks largely to the discovery of a new and undisturbed subpopulation. Some of the other sites, including the type locality have been severely depleted by collectors.
Altitude: About 1600-2000 metres above sea level.
Habitat: It grows on gravelly flat and slightly sloping terrain among calcareous rocks in xerophytic shrubland. The habitat is locally classified as matorral desértico micrófilo. One location is very near a village, and there is a serious threat of habitat alteration. The site is also well-known to both commercial and amateur collectors and there is definite evidence of illegal collecting. The other sites are far from villages or other human activities, so there is less likelihood that they will be affected by habitat alteration. Local people also use several ariocarpus species, including this taxon, for medicinal purposes. Seed predation by rodents also seems to be a problem at two of the colonies, even the plants are eaten in very dry years. The type locality was depleted through intense illegal collecting.
Synonyms:
See all synonyms of Ariocarpus bravoanus
Accepted name in llifle Database:
Ariocarpus bravoanus subs. hintonii
(Stuppy & N.P.Taylor) E.F.Anderson & W.A.Fitz Maur.
Haseltonia 5: 11. 1998 [1997 publ. 1998]
Synonymy: 6
Accepted name in llifle Database:
Ariocarpus bravoanus
H.M.Hern. & E.F.Anderson
Bradleya 10: 1. 1992
Synonymy: 3
Common Names include:
SPANISH (Español):
Chaute
Description: Ariocarpus bravoanus subs. hintonii is a solitary geophyte cactus, rosette-shaped with triangular, rough, dark green verrucose tubercles. It is accepted as a valid subspecies by cactus specialists, Anderson (2001) and Hunt (1999).
Stem: Growing slowly to 6 cm in diameter 1,5 cm above ground level in habitat.
Tubercles: Flat, triangular, up to 20mm dark olive green, with a central woolly grove and two smaller glabrous, very distinct, perfectly straight lateral groves 0.5-1.0 mm wide. The verrucose part of adaxial tubercle surface is 8-11 mm long and 11-15 mm wide, the remainder is densely and finely verrucose, with a pale, almost crystalline appearance, edges acute, not rounded apex acute and well-defined. The central fissure develops only with maturity. In habitat often the tubercles are greyish-green in colour, sometimes taking on a yellowish tint with age.
Parastichy numbers: 5 and 8.
Spines: None.
Flowers: Pinkish-magenta flower, 4 cm in diameter.
Blooming season: August to October, it is frequently the earliest species of the genus to bloom in cultivation.
Fruit: Pale red 20 x 5 mm.
Seeds: 1,1-1,4(-1,5) x 0,95-1,2 mm, testa black, tuberculate.
Notes: Ariocarpus hintonii - discovered in 1981 - is a highland or southern form of Ariocarpus fissuratus from a geographically remote isolated line. Ariocarpus fissuratus var. hintonii, although superficially resembling Ariocarpus fissuratus of the Northern type, is closely related to Ariocarpus bravoanus, sharing many similar morphological characters, tubercle structure, papillate epidermis, seed testa etc. A. fissuratus var. hintonii was therefore subsequently transferred to subspecific status beneath Ariocarpus bravoanus by Anderson & Fitz Maurice. In fact some plants in the A. bravoanus habitat have a marked resemblance to A. hintonii, and these two taxa may well represent extremes of the same species.
Subspecies, varieties, forms and cultivars of plants belonging to the Ariocarpus fissuratus group
Bibliography: Major references and further lectures
1) Edward Anderson "The Cactus family" Timber Press, Incorporated, 2001
2) James Cullen, Sabina G. Knees, H. Suzanne Cubey "The European Garden Flora Flowering Plants: A Manual for the Identification of Plants Cultivated in Europe, Both Out-of-Doors and Under Glass" Cambridge University Press, 11/Aug/2011
3) David R Hunt; Nigel P Taylor; Graham Charles; International Cactaceae Systematics Group. "The New Cactus Lexicon" dh books, 2006
4) Fitz Maurice, W.A., Sotomayor, M., Hernández, H.M. & Fitz Maurice, B 2013. Ariocarpus bravoanus ssp. hintonii. The IUCN Red List of Threatened Species. Version 2015.1. <www.iucnredlist.org>. Downloaded on 21 June 2015.
It flowers in August to October and is frequently the earliest species of the genus to bloom in cultivation.
Photo by: Valentino Vallicelli
Ariocarpus bravoanus subs. hintonii
Photo by: Cactus Art
This specie starts blooming when still young. The first flower is larger than the plant's body.
Photo by: Valentino Vallicelli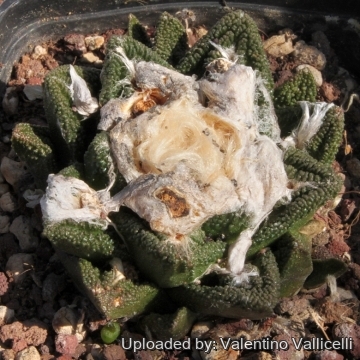 Ariocarpus bravoanus subs. hintonii
Photo by: Valentino Vallicelli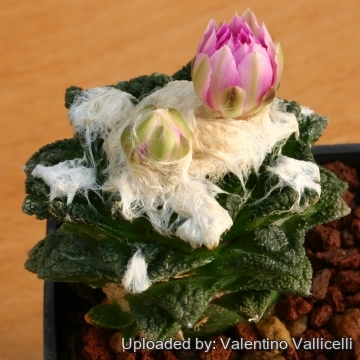 Ariocarpus bravoanus subs. hintonii
Photo by: Valentino Vallicelli
The central fissure on the tubercle develops only with maturity.
Photo by: Cactus Art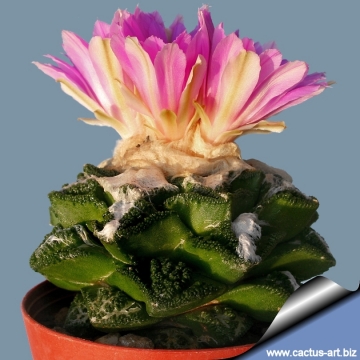 Ariocarpus bravoanus subs. hintonii
Photo by: Cactus Art
These cacti are difficult to spot in their natural habitat.
Photo by: Agócs György
Cultivation and Propagation: Ariocarpus fissuratus subs. hintonii is not too difficult in a greenhouse, although it grows extremely slowly (it starts blooming at the age of 8-12 years).
Soil: Use a loose mineral cactus mix with extra perlite or pumice and clay pots help the plants to dry out between watering.
Repotting: The plants need deep pots to accommodate the napiform unit formed by the stem base and the rootstock (or they will often simply crack your pots). Generally, they should be repotted frequently at least every other year in order to provide fresh soil. However, old plants become senile and have a tendency to succumb to disease and a weak root system. At this stage, as is well known, they die suddenly. So, after they reach 10 cm in diameter grow them slowly, and adopt a new repotting period, using intervals of every 3 years. Additionally grow them under drier conditions or with stronger sunlight. However, repotting doesn't necessarily mean they'll need larger containers.
Sun Exposure: Partial sun or light shade. They need a good amount of light, a place near the roof of the greenhouse helps drying the pot after watering.
Watering: They require moderately watering through the growing season. This can be done weekly during the summertime, if the weather is sunny enough, with a little fertilizer added. Kept this way, plants will show a healthy, although slow growth. Keep dry as soon as the temperature starts dropping in October and keep it perfectly dry in winter at temperatures from 5 to 15 degrees centigrade.
Hardiness: Winter care presents no problems at 5°C with plenty of light., but frost hardy to -10°C.
Pest and diseases: They are generally fairly easy to grow, especially if kept pest-free. They are susceptible to stem and root mealy bugs, and damage from these may well initiate fungal attack.
Propagation: By seeds, remembering that seedlings dislike strong light and dry conditions, but the grafted plants are typically rather tall- growing, compared with plants on their own roots, that are usually flatter to the ground.
Your Photos
---
by Cactus Art
by Valentino Vallicelli

by Cactus Art
by Valentino Vallicelli

by Flavio Agrosi