Donate now to support the LLIFLE projects.
Your support is critical to our success.
Echinocereus pseudopectinatus Photo by: Valentino Vallicelli
Origin and Habitat: The species occurs in a small region of southeastern portion of the state of Arizona, USA (Cochise County, nearby of Bisbee and Douglas), and adjacent Sonora (Moctezuma, Agua Prieta), in Mexico.
Altitude: It grows at altitudes between 800 and 1500 metres above sea level.
Habitat: The species grows on igneous substrates in the Chihuahuan Desert mostly on foothills and rocky slopes, in semidesert grasslands or among desert scrubs together witth Mammillaria miegiana, Echinocereus rigidissimus and Coryphantha recurvata. It tends to grow in rocky outcrops.
Synonyms:
Common Names include:
ENGLISH:
Devil-thorn
Description: Echinocereus pseudopectinatus is a great favourite in collections particularly priced for its dull pink spines and very showy huge magenta blooms. It is distinguished for its unusually thin, bristlelike spines clothing the flowers and fruits.
Similar species: It is somewhat similar and often confused with Echinocereus pectinatus and Echinocereus dasyacanthus, which belong to an unrelated species group from the Chihuahuan Desert. It has also been considered conspecific with Echinocereus bristolii, a closely related endemic species of Sonora, Mexico.
Habit: Plants solitary, rarely few branched.
Stems: Erect, short cylindrical, light green, to 20 cm high and 4-6 cm in diameter, partially obscured by spines.
Ribs: (13-)15-16(-19), slightly tuberculate, crests slightly undulate.
Areoles: Elloptical, 4-8 mm apart.
Spines: 13-17 per areole, stiff and straight, white to dull pink, or grey, becoming grey with dark tips.
Central spines: (0-)1-4(-5), sometimes in two vertical series, whitish, erect, projecting, (1-)2-4(-15) mm long,
Radial spines: 12-15, whitish, spreading, 9-12 mm long, appressed to spreading.
Flowers: Funnelform, from near the top of plant, magenta, to 5-8(-11) cm long, (6-)7-9(-10) cm in diameter. Flower tube 15-25 long, 8-20 mm in diameter; flower tube hairs 3-5 mm; inner tepals purplish pink with obscurer proximal portion and midstripes, 35-45 long and 10-22 mm broad, tips relatively thin and delicate; anthers dark yellow; nectar chamber to 3 mm.
Blooming season: Spring, fruiting 2 months after flowering.
Fruits: Globose 15-23 mm in diameter, dark green, brownish tinged turning red, spiny, pulp white.
Bibliography: Major references and further lectures
1) Edward Anderson "The Cactus family" Timber Press, Incorporated, 2001
2) Nathaniel Lord Britton, Joseph Nelson Rose "Cactaceae: Descriptions and Illustrations of Plants of the Cactus Family" vol. 4 The Carnegie Institution of Washington, Washington 1923
3) James Cullen, Sabina G. Knees, H. Suzanne Cubey "The European Garden Flora Flowering Plants: A Manual for the Identification of Plants Cultivated in Europe, Both Out-of-Doors and Under Glass" Cambridge University Press, 11/Aug/2011
8) David R Hunt; Nigel P Taylor; Graham Charles; International Cactaceae Systematics Group. "The New Cactus Lexicon" dh books, 2006
9) Del Weniger "Cacti of Texas and Neighboring States: A Field Guide" University of Texas Press, 1984
10) Flora of North America Editorial Committee "Flora of North America: North of Mexico. Magnoliophyta: Caryophyllidae, part 1" Oxford University Press, 1993
11) Van Devender, T. & Reina, A.L. 2013. Echinocereus pseudopectinatus. In: "IUCN 2013. IUCN Red List of Threatened Species." Version 2013.1. <www.iucnredlist.org>. Downloaded on 23 October 2013.
Echinocereus pseudopectinatus
Photo by: Valentino Vallicelli
Echinocereus pseudopectinatus
Photo by: Colin Bundred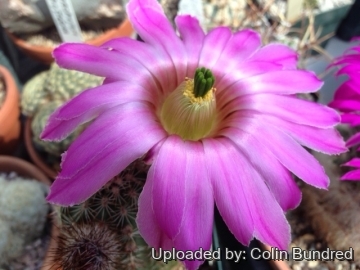 Echinocereus pseudopectinatus
Photo by: Colin Bundred
Echinocereus pseudopectinatus
Photo by: Valentino Vallicelli
Echinocereus pseudopectinatus
Photo by: Valentino Vallicelli
Echinocereus pseudopectinatus
Photo by: Valentino Vallicelli
Echinocereus pseudopectinatus
Photo by: Valentino Vallicelli
Echinocereus pseudopectinatus
Photo by: Valentino Vallicelli
Cultivation and Propagation: Echinocereus pseudopectinatus is fairly easy to grow, but rather slowly and is sensitive to over-watering (rot prone). It makes great potted specimens.
Soil: Use a mineral well permeable soil with little organic matter (peat, humus).
Growth rate: It grows well, though slowly, but it possible to increase the speed of growth to some extent by providing adequate amount of water, warmth, and a liquid fertilizer diluted half strength during the active growing season, but it's susceptible to rotting if too wet. Most plants will offset readily, and clumps can be produced in a few years.
Soil: It needs a very porous, slightly acidic potting medium (add pumice, vulcanite, and perlite). Outdoors it does well on poor, rocky soils.
Exposure: It likes a sunny position also blasting sun in summer. If grown indoor provide 4 to 6 hours, or more, direct morning or afternoon sun.
Watering: It is sensitive to overwatering (rot prone) needs a very good drainage to avoid rotting, but requires more moisture than true desert cacti to grow and produce flowers.
Hardiness: It its natural environment it is very cold resistant from -10° to -25° C (depending on clones) or less for short periods of time. It can be grown outdoors in Mediterranean warm-temperate climates, But for safe cultivations needs anyway to kept above 5 °C and dry in winter. But it can tolerate temperatures down to -5° C (or even less) for very short periods if very dry and ventilated. During winter month, put them in a cool luminous place and encourage them to enter winter dormancy by withholding water and fertiliser over the winter as they will etiolate, or become thin, due to lower levels of light.
Maintenance: Repot every two years. Needs lots and lots of space to grow, use large shallow container or bowl filled with very porous compost. It like pots with generous drain holes.
Pest & diseases: They are susceptible to fungal diseases if overwatered, but are not nearly as sensitive as many other cacti, especially in warm weather. If kept damp through cold periods, they will invariably suffer.
Uses: It is a fine plant for a rock garden or container, contrasts well with agaves, yuccas, and low-growing flowering plants.
Propagation: Seeds, also can be grown from cutting as it slowly branches from the base. The seeds may be germinated and grown in containers. Their main requirements consist of high humidity levels, free-draining soil mix, and enough water, light, and nutrition.
Your Photos
---

by Valentino Vallicelli
by Valentino Vallicelli

by Valentino Vallicelli

by Valentino Vallicelli
by Valentino Vallicelli