Donate now to support the LLIFLE projects.
Your support is critical to our success.
Since 4 Aug 2013
sponsored link
Accepted Scientific Name: Parodia concinna (Monv.) N.P.Taylor
Bradleya 5: 93 (1987)
Parodia concinna subs. agnetae Photo by: Raffa C. Garcia
Origin and Habitat: Uruguay (Southern America) Rocha, Lavalleja, Maldonado.
Altitude: 100-200 metres above sea level.
Synonyms:
See all synonyms of Parodia concinna
Accepted name in llifle Database:
Parodia concinna
(Monv.) N.P.Taylor
Bradleya 5: 93 (1987)
Synonymy: 50
Description: Parodia concinna subs. agnetae is small cactus species forming a flattened and much-ribbed sphere that could develop several golden-yellow flowers simultaneously in early summer spring. It one of the several forms of the very variable Parodia concinna which form a complex of related taxon. It distinguish for the dense thin spines and more closely set areoles. It is still unclear whether this variable complex is one or several species. There is so much variation in spination that most authors choose to lump them together until further studies are done.
Roots: Fibrous.
Stem: Simple, broadly globular to inverted pear-shaped somewhat depressed at apex, eventually longer in age, about 3-10 cm tall, and 4-10 cm across, light or dark glossy green, ribbed and warty at the top.
Ribs: 16 to 30 about 6 mm broad at the bas, with chin-like tubercles between the areoles
Areoles: Young areoles white-felted, then bare, rounded, up to 3 mm in diameter and about 6 mm apart.
Spines: 10 to 12, spreading, setaceous, hair-like to bristle-like, some more or less curved to twisted, brown, partly whitish to yellowish often poorly differentiated as centrals and radials.
Radial spines: 9 to 25, about 5 to 7 mm or more long adpressed and interlaced white to light brown, with darker dots.
Central spines: 1-4, one much longer about 26 mm long, spreading or turned downward light brown, hardly distinguishable from radial spines
Flowers: 1-5 produced together at the apex, funnel-shaped, bright yellow, large, about 5 cm long and wide. Outer perianth-segments narrow, acute, reddish, inner perianth-segments oblong, yellow almost transparent, except the reddish tips, acute. Stigma-lobes scarlet. Scales on the ovary hairy in their axils. Perianth-tube slender. The flowers are self-incompatible.
Blooming season: It produces several flowers at a time from spring to early summer that remain open for about three days.
Fruit: Green ovoid to globular approx. 1,5 cm cm long, thin-walled, splitting or disintegrating at maturity with more than 100 seeds per fruit.
Seed: 0,8-1 mm, bell-shaped broadest at the hilum, somewhat, tuberculate, shiny and black.
Subspecies, varieties, forms and cultivars of plants belonging to the Parodia concinna group
Bibliography: Major references and further lectures
1) Edward Anderson "The Cactus family" Timber Press, Incorporated, 2001
2) David R Hunt; Nigel P Taylor; Graham Charles; International Cactaceae Systematics Group. "The New Cactus Lexicon" dh books, 2006
3) N. L. Britton, J. N. Rose "The Cactaceae. Descriptions and Illustrations of Plants of the Cactus Family." Volume 4, The Carnegie Institution of Washington, Washington 1923
4) Curt Backeberg "Die Cactaceae: Handbuch der Kakteenkunde" Gustav Fischer Verlag, Stuttgart New York 1982–1985
5) James Cullen, Sabina G. Knees, H. Suzanne Cubey "The European Garden Flora Flowering Plants: A Manual for the Identification of Plants Cultivated in Europe, Both Out-of-Doors and Under Glass" Cambridge University Press, 11/Aug/2011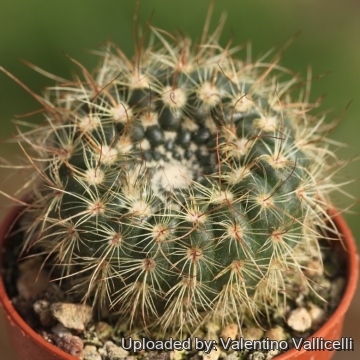 DV8 Lavalleja, Uruguay. Altitude 150m
Photo by: Valentino Vallicelli
Send a photo of this plant.
The gallery now contains thousands of pictures, however it is possible to do even more. We are, of course, seeking photos of species not yet shown in the gallery but not only that, we are also looking for better pictures than those already present.
Read More...
Cultivation and Propagation: Parodia concinna subs. agnetae is relatively easy to grow on its own roots.
Soil: Grow it in an open sandy-gritty cactus compost.
Pots: It needs a relatively shallow pot to accommodate its fibrous roots and provide a very good drainage. It may stay in the same pot for many years.
Watering: Water in moderation, it prefer a completely dry place during winter. Mature individuals easily rot and die especially after planting so be extremely cautious with watering. Keep dry in winter or when night temperatures remain below 10° C. Water it less than average if in bigger pots.
Special need: Provide very good ventilation. Nearly all problems occur as a result of overwatering and poor ventilation, especially when weather conditions are dull and cool or very humid.
Fertilization: Feed them once during the growing season with a fertilizer specifically formulated for cactus and succulents (high potash fertilizer with a dilute low nitrogen), including all micro nutrients and trace elements diluted to ½ the strength recommended on the label. They thrive in poor soils and need a limited supplies of fertilizer to avoid the plants developing excess vegetation, which is easily attacked by fungal diseases.
Exposure: It will do its best with lots of sun and become stressed with inadequate light which could result in poor growth and unnatural shape.
Hardiness: It likes warmth (recommended minimum winter temperature 5° C) however plants kept perfectly dry can can survive low temperatures, approx. -5°, but for safe cultivation it is best to avoid freezing temperatures.
Use: This is a good pot plant suited for a non heated green house. It can be also cultivated outdoors in raised beds, terraces if sheltered from winter rain. This cactus continues to be, a particular prize among collectors
Pests & diseases: These cacti may be attractive to a variety of insects, but plants in good condition should be nearly pest-free, particularly if they are grown in a mineral potting-mix, with good exposure and ventilation. Nonetheless, there are several pests to watch for:
- Red spiders: Red spiders may be effectively rubbed up by misting the plants from above.
- Mealy bugs: Mealy bugs occasionally they develop aerial into the new leaves and flowers with disfiguring results, but the worst types develop underground on the roots and are invisible except by their effects.
- Rot: Rot is only a minor problem if the plants are watered and "aired" correctly. If they are not, fungicides won't help all that much.
Propagation: Seeds. The seeds can be sown in pots of fine, well-drained sandy soil, any time during the spring when temperatures are warm. Cover the seeds with a fine layer of grit and water from below with a fungicide to prevent damping off. For the 1-2 weeks cover the pots with a sheet of glass/clear perspex to keep the humidity levels high. Remove the glass and replace it with light shade-cloth and mist once or twice a day for the next two weeks after which most seeds should have germinated. From then on mistings can be reduced to every second and then every third day as the little plants grow.