Donate now to support the LLIFLE projects.
Your support is critical to our success.
Since 4 Aug 2013
Accepted Scientific Name: Gymnocalycium ochoterenae Backeb.
Kaktus-ABC [Backeb. & Knuth] 293, 417, 1936 Backeb., F.M.Knuth
Gymnocalycium ochoterenae var. scoparium Photo by: Alexander Arzberger
Origin and Habitat: Gymnocalycium ochoterenae var. scoparium grows in a small area west of Quines at the base of Lujan mountains, San Luis, Argentina.
Altitude range: 550-650 metres above sea level.
Habitat and ecology. This species favours shady spots.
Synonyms:
See all synonyms of Gymnocalycium ochoterenae
Description: Gymnocalycium ochoterenae var. scoparium is at most a race of Gymnocalycium ochoterenae. The key difference by which the two were separated, namely the presence of longer interlaced light coloured brushy spines, longer spherical stems, and most prominent tubercles, seems entirely spurious.
Subspecies, varieties, forms and cultivars of plants belonging to the Gymnocalycium ochoteranae group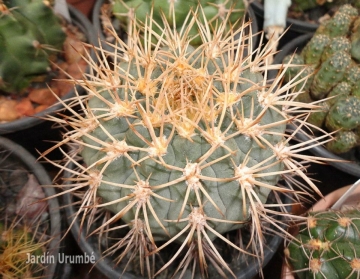 Gymnocalycium ochoterenae var. scoparium
Photo by: Alexander Arzberger
Send a photo of this plant.
The gallery now contains thousands of pictures, however it is possible to do even more. We are, of course, seeking photos of species not yet shown in the gallery but not only that, we are also looking for better pictures than those already present.
Read More...
Cultivation and Propagation: Gymnocalycium ochoterenae var. scoparium is a summer grower species that is easy to cultivate.
Growth rate: It is a slow growing but easily flowering species.
Soils: It likes very porous standard cactus mix soil. Prefer a low pH compost, avoid substrata rich in limestone; otherwise growth will stop altogether.
Repotting: This plant needs plenty of space for its roots, repotting should be done every other year or when the it has outgrown its pot. Use pot with good drainage.
Watering: Needs moderate to copious waterings in summer, but do not overwater (Rot prone), keep dry in winter at a minimum temperature of 0°C.
Fertilization: Feed with a high potassium fertilizer in summer.
Hardiness: Reputedly resistant to frost if kept on the dry side prior to, and during, cold weather (hardy to -5 C ° C, or less for short periods).
Exposition: The plant tolerates extremely bright situations but enjoys filtered sunlight or afternoon shade, inside it needs bright light, and some direct sun. Tends to bronze in strong light, which encourages flowering and heavy spine production, but is likely to suffer from sun scorch or stunted growth if over exposed to direct sunlight during the hottest part of the day in summer.
Uses: It is an excellent plant for container growing.