Donate now to support the LLIFLE projects.
Your support is critical to our success.
Since 4 Aug 2013
Echidnopsis ericiflora Photo by: Luiza Ferreira
Origin and Habitat: Echidnopsis ericiflora is endemic to South East Kenya (east of Mt Kilimanjaro on the Voi-Mombasa road and also along the Galana River in the Lali Hills)
Type: Kenya, 42km from Voi on road to Mombasa.
Habitat and ecology: It always appears to grow in deep, red, sandy soil, well-hidden under bushes, never found in rocky habitats.
Synonyms:
Description: Echidnopsis ericiflora is a small succulents with characteristic urceolate (jug shaped) flowers borne on narrow stems which root along their length.
Derivation of specific name: Echidnopsis ericiflora is so named because of the resemblance to the flowers of heather (Erica spp.)
Stems: Rooting over the whole length. to 20 cm long, 4 - 8 mm across finely papillose. Tubercles arranged in 6 - 8 ribs, covered with hexagonal tubercles each topped with a rudimentary ovate-deltoid, rapidly caducuous, finely papillose leaf.
Flowers: Very small, fascicled, sub-sessile, produced near the stems summits. Pedicel 1-1.5 mm long. Sepals ovate-acute, 1.5 mm long. Corolla urceolate, circular and not pentagonal in cross-section, 5-8 mm long, tube 4-4.5 mm across, narrowing to less than 2mm at mouth, outside wine-red, glabrous. Inside reddish to dart red bottom of the tube inside with scattered hairs. Corolla-lobes basally reddish, apically yellowish, erect, deltoid, 1-2 mm long slightly spreading when fully expanded. Corona pentagonal, 2.8-3 mm in diameter. Inner corona-lobes yellow at the base, purplish-red and papillose at the apex. Outer corona-lobes yellowish-reddish-black, basally yellow with t black margins, lobes slightly divided in the middle, enclosing the nectar cavity.
Similar species: E. ericiflora is very closely allied to Echidnopsis squamulata and Echidnopsis urceolata. It differs from the latter very obviously in the stems and from both it can be separated readily by the circular and not pentagonal cross-section of the flower. It can also be distinguished from these by its rather fleshier flower which has especially thick lobes. Vegetatively it is more or less indistinguishable from E. squamulata, having identical leaves and only slightly thinner stems. Apart from the above-mentioned differences the pedicel is also much shorter than in this species. E. ericiflora, with its repent stem, short pedicel and shorter corolla is the most unspecialised of the closely-related group to which it belongs. All three species are of relatively restricted distribution.
Bibliography: Major references and further lectures
1) "Echidnopsis Hooker fil." <http://www.asclepiad-exhibition.org> Web. 25 Jan. 2015.
2) Focke Albers, Ulrich Meve "Illustrated Handbook of Succulent Plants: Asclepiadaceae: Asclepiadaceae" Volume 4 Springer Science & Business Media, 2002
3) Echidnopsis ericiflora in: Bradleya, volume 6, pages 27-29,1988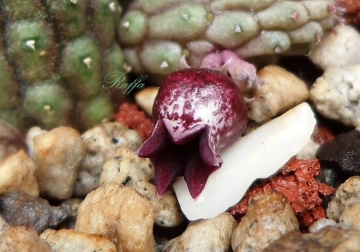 Echidnopsis ericiflora
Photo by: Raffa C. Garcia
Echidnopsis ericiflora
Photo by: Raffa C. Garcia
Echidnopsis ericiflora
Photo by: Raffa C. Garcia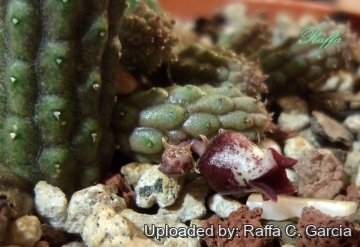 Echidnopsis ericiflora
Photo by: Raffa C. Garcia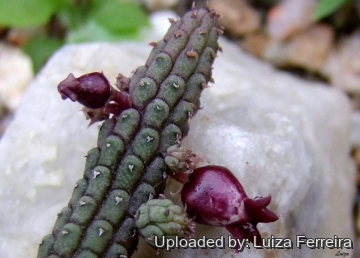 Echidnopsis ericiflora
Photo by: Luiza Ferreira
Send a photo of this plant.
The gallery now contains thousands of pictures, however it is possible to do even more. We are, of course, seeking photos of species not yet shown in the gallery but not only that, we are also looking for better pictures than those already present.
Read More...
Cultivation and Propagation: Echidnopsis ericiflora is an easy obliging blooming plant, which is happy in any average succulent house.
Soil: Since roots are quite shallow, use a cactus mix or add extra perlite or pumice to regular soil potting soil. A gritty, very free-draining compost is suitable, and clay pots help the plants to dry out between watering.
Watering: They require moderately watering through the growing season but enjoy plenty of water and some fertiliser in hot weather, this helps them to flower freely. Water more sparingly in winter according to temperatures. But, as with most asclepiads, it is unwise to leave them wet in cold weather.
Hardiness: Winter care presents no problems at 10°C with plenty of light.
Sun Exposure: Partial sun or light shade.
Pest and diseases: They are generally fairly easy to grow, especially if kept pest-free. They are susceptible to stem and root mealy bugs, and damage from these may well initiate fungal attack. If you do have problems with a stem or with basal rotting, you can reliably isolate the healthy parts, dry them off, and re-root them in moist compost.
Cultural Practices: Re-pot every 2 years.
Propagation: Easiest with stem cuttings. Allow cuttings to dry a day before planting. Stems must be laid (Not buried) on gritty compost and will then root from the underside of the stems. It can also be increased from seeds sowing in spring in moist, sandy peat moss. Barely cover seeds.