Donate now to support the LLIFLE projects.
Your support is critical to our success.
Since 4 Aug 2013
Cephalophyllum parvibracteatum Photo by: Valentino Vallicelli
Origin and Habitat: South Africa, Northern and Western Cape provinces.
Altitude: Approx. 200-800 m a.s.l.
Habitat: It grows in undulating landscapes covered with open succulent shrub-land on shallow to deep soils, acidic to neutral. Rock substrates: calcrete, siltstone, sandstone and gneiss. The area is characterized by winter-rainfall climate with dry, hot summers and mild, rainy winters. Annuals and geophytes can determine the appearance of the vegetation in spring after good winter rains, the vegetation is dominated by Stoeberia frutescens and Lampranthus uniflorus. The lowest temperatures in winter are 5-10°C, while the highest temperatures in summer are 30-35°C. Winters are mild, with rare occurrence of frost.
Synonyms:
See all synonyms of Cephalophyllum parvibracteatum
Description: Cephalophyllum parvibracteatum is a short-stemmed perennial succulent plant forming low mats less than 5 cm tall by branching. It looks like short, fat Ice Plant but doesn't spread by running roots.
Stem: Branches vertically compressed (internodes not visible) from a very short stocky trunk.
Leaves: Cylindrical 35 mm long, 5-6 mm wide, apex rounded and reddish.
Flowers: Terminal, solitary, daisy-like, yellow approx 40 mm in diameter.
Blooming season: Winter.
Bibliography: Major references and further lectures
1) Heidrun E. K. Hartmann "Aizoaceae: A-E" Springer, 2001
2) Raimondo, D., von Staden, L., Foden, W., Victor, J.E., Helme, N.A., Turner, R.C., Kamundi, D.A. and Manyama, P.A. 2009. "Red List of South African Plants." Strelitzia 25. South African National Biodiversity Institute, Pretoria.
3) James Cullen, Sabina G. Knees, H. Suzanne Cubey "The European Garden Flora Flowering Plants: A Manual for the Identification of Plants Cultivated in Europe, Both Out-of-Doors and Under Glass - Casuarinaceae to Aristolochiaceae" Cambridge University Press, 11/ago/2011
4) Hermann Jacobsen, Vera Higgins "Succulent Plants: Description, Cultivation and Uses of Succulent Plants, Other Than Cacti" Williams and Norgate, Limited, 1935
5) Jacobsen. "Handbook of succulent plants" 1328 (1960)
6) H. Herre "The genera of the Mesembryanthemaceae" Tafelberg-Uitgewers Beperk, 1971
7) Gideon Smith u.a. (Hrsg.): "Mesembs of the World: Illustrated Guide to a Remarkable Succulent Group." Briza Publications, 1998
8) Nicholas Edward Brown "Mesembryanthemum and allied genera." In: Journal of Botany, British and Foreign. Band 66, 1928, S. 171.
9) Heidrun E. K. Hartmann: "Monographien der Subtribus Leipoldtiinae. VIII. Monographie der Gattung Cephalophyllum (Mesembryanthemaceae)." In: Mitteilungen aus dem Institut für Allgemeine Botanik Hamburg. Volume 22, 93–187 1988.
10) Heidrun E. K. Hartmann: "Notes on the genus Cephalophyllum: chromosome numbers in the genus Cephalophyllum N.E.Br. (Mesembryanthemaceae)." In: Cactus and succulent journal volume 58, Number 6, 263–266, 1986
11) Heidrun E. K. Hartmann: "Zur Biologie und Taxonomie des Cephalophyllum curto-phyllum-Komplexes (Mesembryanthemaceae). (Beitrage zur Gattung Cephalophyllum. IV)." In: Mitteilungen aus dem Institut für Allgemeine Botanik Hamburg. Volume 19, 141–163. 1984.
12) Heidrun E. K. Hartmann: "Interaction of ecology, taxonomy and distribution in some Mesembryanthemaceae." In: Bothalia. volume 14, Number 3-4, 653–659. 1983.
13) Heidrun E. K. Hartmann: "Zur Kenntnis der Gattung Cephalophyllum N.E.Br." In: Botanische Jahrbücher für Systematik volume 99, Number 2/3, 264–302. 1978.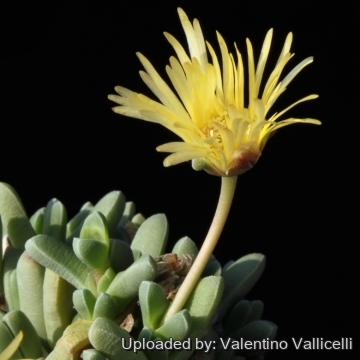 Cephalophyllum parvibracteatum
Photo by: Valentino Vallicelli
Cephalophyllum parvibracteatum
Photo by: Cactus Art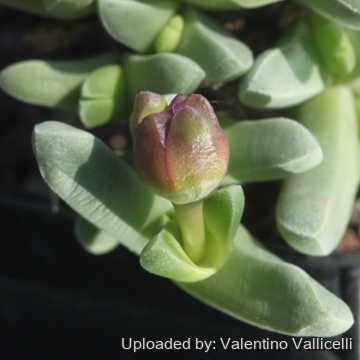 Cephalophyllum parvibracteatum
Photo by: Valentino Vallicelli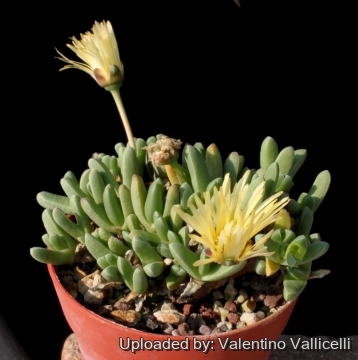 Cephalophyllum parvibracteatum
Photo by: Valentino Vallicelli
Cephalophyllum parvibracteatum
Photo by: Valentino Vallicelli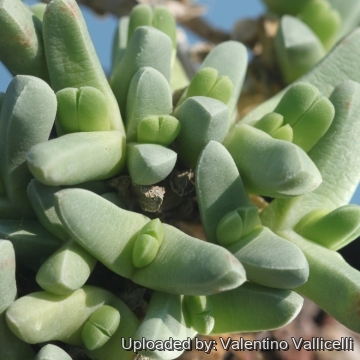 Cephalophyllum parvibracteatum
Photo by: Valentino Vallicelli
Cephalophyllum parvibracteatum
Photo by: Valentino Vallicelli
Send a photo of this plant.
The gallery now contains thousands of pictures, however it is possible to do even more. We are, of course, seeking photos of species not yet shown in the gallery but not only that, we are also looking for better pictures than those already present.
Read More...
Cultivation and Propagation: Cephalophyllum parvibracteatum is most active in winter, but in favourable growing conditions it keeps going over the summer too and doesn't need particular care. In cultivation Cephalophyllum parvibracteatum seems to prefer a fairly dry rest in winter but grows whenever watered. In very dry warm regions these succulents make very impressive out door ground covers.
Growing rate: It is vigorous and quick-growing, speedily forming lateral shoots and low mats.
Soil: Requires good drainage as it it is prone to root rot. It can grows outdoor in sunny, dry, rock crevices (protection against winter wet is required) It can also be cultivated in alpine house, in poor, drained soil.
Fertilization: Feed it once during the growing season with a fertilizer specifically formulated for cactus succulents (poor in nitrogen), including all micro nutrients and trace elements diluted to ½ the strength recommended on the label. It thrives in poor soils and need a limited supplies of fertilizer to avoid the plants developing excess vegetation, which is easily attacked by fungal diseases.
Watering: They are not at all delicate and can take some water year-round. Water minimally in winter, only when the plant starts shrivelling, water more abundantly when they are growing in the spring and summer, but let the soil dry between soaking. An occasional summer soaking is wise. If grown in a container, bottom watering by immersing the container is recommended. It must have very dry atmosphere.
Light: It needs a bright sunny or light shade exposure in winter, but keep cool and partially shaded in summer.
Hardiness: It prefer a very bright situation and require a minimum temperature 5°C, but can be cool to cold and dry in the dead of winter. The earlier in the year they are planted, the better the chances for winter survival. True with many of the Mesembryanthemaceae.
Uses: It is an excellent plant for container growing. It always looks good and stays small. It look fine in a cold greenhouse and frame or outdoor in a rockery.
Pests & diseases: Cephalophyllum parvibracteatum may be attractive to a variety of insects, but plants in good condition should be nearly pest-free, particularly if they are grown in a mineral potting-mix, with good exposure and ventilation. Nonetheless, there are several pests to watch for:
- Red spiders: Red spiders may be effectively rubbed up by misting the plants every day.
- Mealy bugs: Mealy bugs occasionally develop aerial into the new leaves and flowers with disfiguring results, but the worst types develop underground on the roots and are invisible except by their effects.
- Sciara Flies: Sciara flies are one of the major problems for seedlings. It is a good practice to mulch your seedlings with a layer of grit, which will strongly discourage the flies.
- Scales, thrips and aphids: This insects are rarely a problem.
- Rot: Rot it is only a minor problem with mesembs if the plants are watered and "aired" correctly. If they are not, fungicides won't help all that much.
Propagation: It is very quick and easy to start from seed or cuttings. Seeds germinate in 7-14 days at 21°C in spring. To make a cutting twist off a branch with at least a part of roots and permit it to dry out a couple of days, lay it on the soil and insert the stem end partially into the soil. Try to keep the cutting somewhat upright so that the roots are able to grow downward.